posted September 8, 2001 by Mychaeel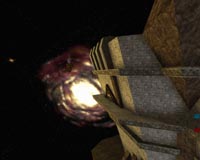 TheSpoonDog has done it again: Grab the new version of JB-Antipody and check out this thread in our forums to post feedback.
Designed as a worthy successor of the Facing Worlds arena (read Spoon's readme file and you'll know what I mean) this map features nicely designed map surveillance screens in every jail, not to mention a breathtaking warp tunnel effect and a particularly hazardous escape route with a couple of TheSpoonDog's beloved pupae on its way. And best of all, the jails underwent Spoon's well-reputed Bone-proofing procedure.
Update: The GeoCities download location is down (I guess GeoCities simply couldn't handle all that traffic ;-). I've put up a temporary mirror: Download it here.
-Mychaeel