posted August 10, 2006 by tarquin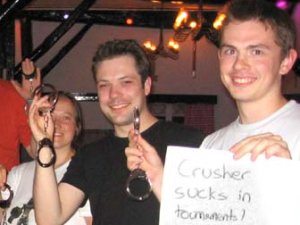 If things seem quiet round here it's because everyone's recovering from JELP, the Jailbreak Euro LAN Party that took place in the Netherlands at the end of July. You can see from this picture the sort of thing that went on, and that I missed out on. There are more pictures on Dalton's site.
Mychaeel (he's the one in the picture with the handcuffs) created a special build of Jailbreak for the tournament, and that allowed some bug testing to be done as well as the playing (and the handcuffs). One small step closer to an eventual next release of Jailbreak.