posted August 30, 2001 by Mychaeel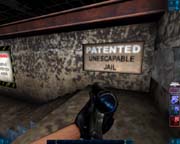 While everybody is eagerly beta-testing JB-Mutiny, TheSpoonDog has silently released JB-Hydro16-320. Above all, the new version features new enhanced unescapable Bone-proof jails with a persistent supply of sniper rifles and a fun in-jail jumping facility.
Head over to TheSpoonDog's place and grab the new version now.
-Mychaeel