posted September 10, 2001 by Daikiki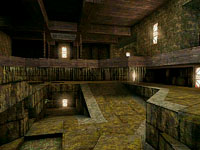 SnowDog has ended his hibernation and provides us with his latest work of art, JB-Rune. Originally designed as a 1-on-1 map, this stage shows the beautiful interior of an ancient temple where luckless prisoners are sacrificed to mythical gods. Download it now, and visit this thread to offer SnowDog your feedback.
Update: Caution from Jail Crew has already reviewed JB-Rune. Read the review and post your comments in our forums.
-Daikiki (but only by proxy)