posted September 19, 2001 by Daikiki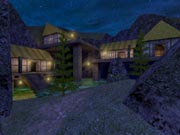 A quick check of the forum revealed to me this little tidbit:
SnowDog is working on a new version of JB-Freya. Not just a revision, either by the look of the screenie. It looks familiar yet somehow different. Snowie sez I think I'll release it next monday or so... we'll see.
The original Freya was a work of art, but was let down by glitches in netplay. With Snow's track record, this one should be an excellent contribution to the ever growing list of JB maps.
-Daikiki