posted October 9, 2001 by Daikiki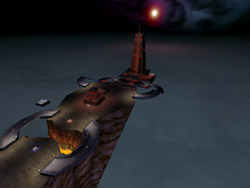 To compare the two would be to insult JB-DarkTowers. DireIce, after a prolonged drought, has graced the UTJB community with a new piece of original work. It's only a beta still, mind you, but JB-DarkTowers is worth your undivided attention even in its unfinished state. The custom death especially is a work of art, although the author seems to think otherwise.
Pick up the map and tell DireIce how much you love it in this thread.
-Daikiki
(Oh, stole the screenie from Jail Crew. Hope ya don't mind, Caution.)