posted October 9, 2001 by Daikiki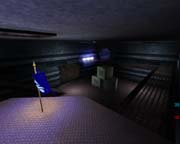 That didn't sound quite right, does it? Well, so be it. TheSpoonDog informed me over on IRC that I had missed the final release of JB-Mutiny. The beta of this carrier inspired map was released a while ago to positive feedback from the regulars. Since then he's added the airplanes we were promised and a few turrets to keep players on their toes.
Do pick up this map. While you're at it, drop by TheSpoonDog's site for more mapping goodness.
-Daikiki