posted October 12, 2004 by tarquin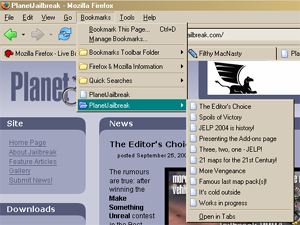 If you're a regular in our forum, you'll know that while Planet Jailbreak strives to work for any web browser, some of us are quite fond of alternatives to Internet Explorer: Mychaeel uses Opera, and I use Mozilla, for example. But now there's a reason why some of us might consider switching to Firefox...
Some time ago we implemented RSS feeds for Planet Jailbreak syndicated news (see the bottom of our menu bar for the links). You can use these already in any news aggregator to keep up to date with the world of Jailbreak. And now, as of Firefox's 1.0 Preview Release, you can see Planet Jailbreak news headlines as 'live bookmarks'. You simply bookmark the RSS feed, and this presents the latest headlines within a folder of your bookmarks. You can read more about this feature on the Firefox site...