posted November 5, 2004 by tarquin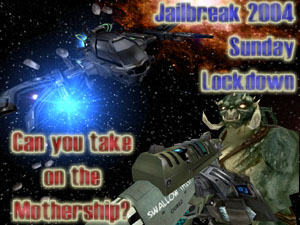 Our two community fragmeets, the Sunday Lockdown and the Wednesday Parole are changing. From Sunday 7 November, the Sunday Lockdown is for Jailbreak 2004. The Wednesday meeting will also be changing, to "classic" UT Jailbreak III. So basically, we're switching the games round. We're moving JB2004 to the more popular Sunday slot because of comments from the community about not enough people playing it.
So arm yourself up, you've got a few more days of training with the bots till you take on the Jailbreak team! The Lockdown counter on the right of this page will tell you just how long you have, and if by some chance you've not yet heard of our Sunday Lockdown, now is your chance to find out!